Listen To The Article
According to a survey, approximately 20 percent of NRIs intend to buy homes in NCR cities for investment purposes. Other major cities on the NRI's wish list include Bengaluru and Hyderabad.
As per the report, the devaluing rupee and the ongoing resilience in the Indian residential real estate market are significant draws for NRIs to invest in their home country. According to last year's survey, the most preferred cities for NRIs were Bengaluru, Pune, and Chennai.
Notably, at least 60 percent of NRI respondents plan to purchase a home in one of these three cities, with 22 percent focusing on Hyderabad, 20 percent on NCR, and 18 percent on Bengaluru. The survey has 5500 participants, with 7 percent stationed in the United States, Canada, Europe, and other Asian countries.
How COVID Increased NRIs Housing Demand?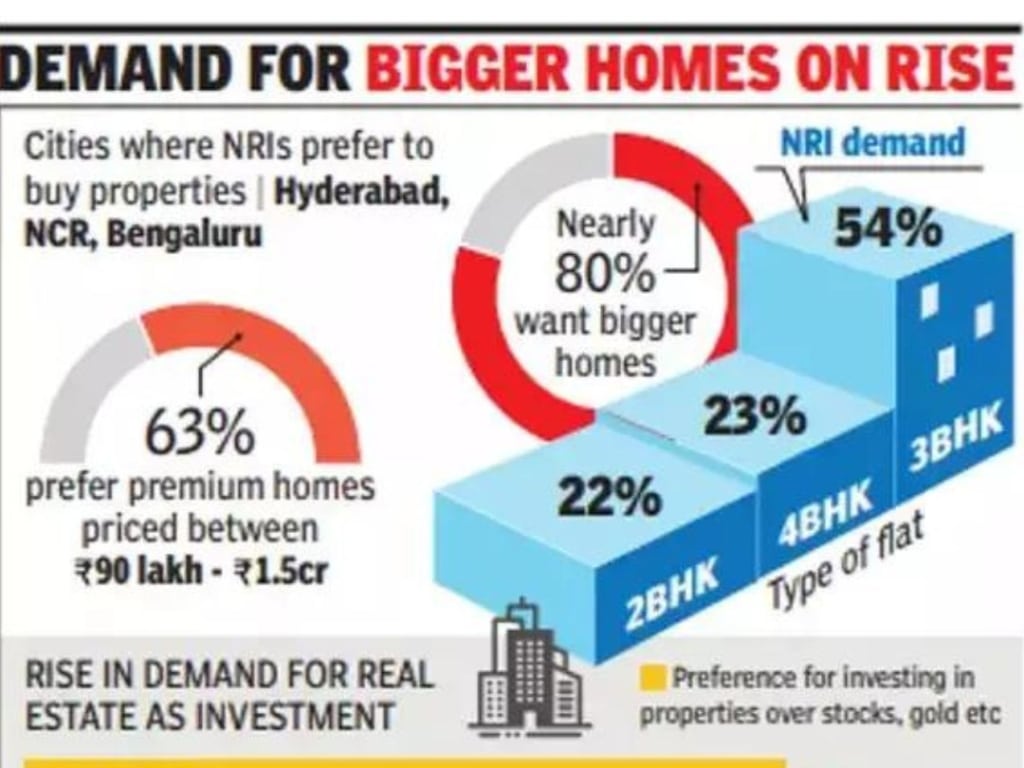 NRIs prefer Indian real estate to stocks, mutual funds, gold, and fixed deposits. In the current (H1 2022) edition of the survey, 71 percent of NRI respondents viewed Indian housing as the best investment bet. This is significantly higher than the previous edition's 55 percent
NRI demand for housing increased by 15-20 percent in the first nine months of 2022 compared to the same period in 2021. "According to Anarock Research, approximately 2.73 lakh homes were sold in the top seven cities between January and September 2022," Thakur says.
The favourable exchange rate is another major motivator for NRIs to purchase larger homes. According to the current H1 2022 survey, over 77 percent of NRI respondents plan to buy larger homes, with 54 percent preferring 3BHKs and 23 percent looking to buy 4BHKs. Only 22 percent of NRI respondents want a two-bedroom apartment. At least 40 percent of respondents in the pre- COVID survey wanted a two-bedroom apartment.
Source-TOI