Listen To The Article
According to the NHAI, the Delhi-Vadodara-Mumbai Expressway will be operational by December 30. The route, which begins in Sohna's Alipur village in Gurugram, was built with a budget of Rs. 95,000 crores. The 1380-kilometer stretch was divided into 40 sections. The 220 kilometre stretch from Gurugram to Dausa has been divided into seven sections.
The Delhi-Dausa section of the Delhi-Gurugram-Mumbai-Vadodara Expressway has been finished. The National Highways Authority of India (NHAI) has now requested permission from its Sohna office to reopen the route.
Once operational, the route will cut the time it takes to travel from Gurugram to Dausa in half. Currently, it takes four to five hours to travel the distance, but the new route will take only two hours and thirty minutes.
The Delhi-Gurugram-Mumbai-Vadodara Expressway will begin with eight lanes and will be expanded to twelve lanes in the coming years. At the moment, driving from Delhi to Mumbai takes 24 hours. It will only take 12 hours once all stretches of the Expressway are operational.
The Expressway will connect Alwar, Dausa, Jaipur, Kishangarh, Ajmer, Kota, Chittorgarh, Udaipur, Bhopal, Ujjain, Indore, Ahmedabad, Vadodara, and Surat to Delhi and Mumbai. The expressway's top speed limit will be 120 kilometres per hour.
The Delhi-Mumbai Expressway's Gurugram-Dausa segment will be inaugurated soon by PM Narendra Modi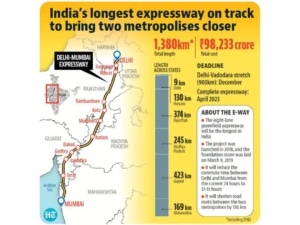 According to Rao Inderjit Singh, a Gurugram MP and Cabinet minister said, the Prime Minister Narendra Modi will soon open the Gurugram-Dausa (Rajasthan) section of the Delhi-Mumbai Expressway.
Singh met with Union Transport Minister Nitin Gadkari in Delhi and reported that the minister approved a key proposal to build an elevated road between Hero Honda Chowk and Umang Bhardwaj Chowk.
The road transport minister informed me in the meeting that work on Gurugram-Dausa section is almost completed, and the transport ministry has requested time from the prime minister to inaugurate this project, which is expected to happen soon.
Source- Times Now