On Monday, July 11, the 22-kilometre elevated Sohna-Gurgaon road will be open to the public. Daily Gurgaon-Sohna commuters now have access to a section of the elevated route via Subhash Chowk and Badshahpur. The elevated state highway is anticipated to reduce traffic congestion and travel times.
Through an interchange at Alipur, the elevated road will also be connected to the Delhi-Vadodara expressway. With an estimated capital investment of Rs 2,000 crore, the project for the 22 km long Gurgaon-Sohna National Highway has been transformed into a six-lane access controlled corridor with an overall elevated portion of around 7 km.
The 3-lane service roads have been built on both sides to exit and enter local traffic flow. From today, the elevated highway will be available to normal traffic. This elevated portion would also offer free access to Delhi and Gurgaon and later connect to the Delhi-Mumbai highway.
Important Entry And Exit Points On The Sohna Elevated Road
There are two parts to the Sohna elevated road project. The first component, an elevated 8.94 km stretch from Subhash Chowk to Badshahpur, opened to commuters on July 11. The second 12.72 km stretch between Badshahpur and Sohna was already accessible to vehicles.
The National Highways Authority of India (NHAI) also agreed to add two more access points for vehicles arriving from the service lane near Subhash Chowk and Jail Road near Bhondsi. In addition to entry and departure at Sohna and Subhash Chowk, the Sohna elevated road previously had only one access point at the Ghamroj toll plaza.
Do You Know The Reason Behind The Unexpected Delays?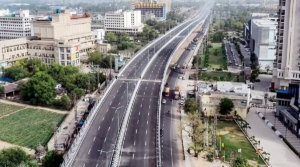 The project was begun in 2018, and it was previously anticipated to be finished within 30 months. But due to the spread of the pandemic and the subsequent construction prohibition brought on by an increase in air pollution, the reasons behind unexpected delays.
A portion of a 40-meter road collapsed at sector 48 in August 2020, and the project was further delayed. After opening to the public, it boosts traffic flow to Sohna Road, Golf Course Road, and Golf Course expansion road.
It will significantly contribute to lowering air pollution in Delhi-NCR once it is fully operational. For now, many commuters aren't aware of the entry and exit points, but with respect to time, this will prove a lifeline for Gurgaon-Sohna travellers.
What To Expect From The Elevated Sohna Road?
People residing along Sohna Road, Tikri, and Islampur have good connectivity with other locations in Gurgaon. The path offers signal-free connectivity between Gurgaon and Sohna that avoids all the congestion like Subhash Chowk and Vatika Chowk.
This route will surely reduce the travel time for people who are going towards Sohna, and Jaipur. The six-lane elevated road will save fuel and time as it only takes 15 minutes to reach Sohna from Gurgaon. This will benefit those lakhs of daily Gurgaon Sohna commuters without getting stuck into traffic jams.